Driven by its director Luis Enrique Rodríguez Ríos, students and teachers of the College of Sciences and Humanities of the Universidad Juárez del Estado de Durango (UJED), continue with the works of the construction of the thematic forest that this university campus will have, which shows a great progress, so it is considered to be completed in about a month.
The foregoing was pointed out by Bernardo Reyes Calderón, professor who coordinates this activity, who added that the idea of building this space was born at the initiative of the Director of the CCH himself, with the aim of activating it with two functions: that young people integrate into nature and work around the subject of Ecology and Environment, which is carried in the curriculum.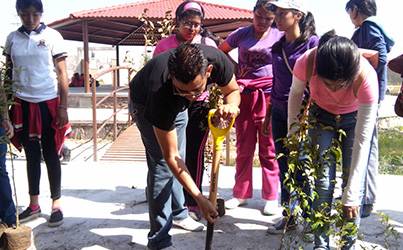 He also said that in this area more than 60 pines of different species and other plants will be planted, to give it a harmonious environment and that functions as an extra lung in the School, since based on the student, academic and worker population with whom account, it is very necessary to oxygenate the institution.
He added that the purpose of planting several species of trees is for the kids to identify and classify the different species and learn about the flora of the Duranguense territory, especially in the mountainous area of the state.
He emphasized that this green area is for students, which will have palapas with internet, so that the boys can carry out their tasks in a pleasant and comfortable place to study relaxed, calm and at ease, he pointed out.
The Ceceachino professor highlighted the management that Engineer Rodríguez Ríos has carried out in different instances to make this project a reality. The construction will cost from 900 thousand pesos to one million; So far, about 800 thousand have been invested.
He also highlighted the support provided by the municipal president of Durango, Esteban Alejandro Villegas Villareal, who donated 300 Washington palms, 500 thunder, 10 cedars and 20 pines for this place.
Finally, he pointed out that to harmonize the facilities of the campus to this project, and because they have the help of all the first semester students, as part of their social service activity the area of the volleyball courts is reforested, setting them to beach volleyball.