The story of #CameronHerrin, sentenced to 24 years in prison, arouses the pity of many users on #Tiktok: edicts and fan accounts in his image. He was only 18 years old when he ran over and killed 1 woman and her 1 year old baby while driving at 100 km / h.
Cameron Herrin, 21, was racing with a friend in his Ford Mustang on May 23, 2018, while Jessica Reisinger-Raubenolt, 24, and her 1-year-old daughter, Lillia, were crossing a Tampa street. Herrin's friend pulled away, but Herrin swerved towards Jessica and Lillia, killing them both. Cameron Herren's story The victim's family searched for the perpetrator.
Jessica Reisinger, 24, and her one-year-old daughter Lillia were killed in the incident on Bayshore Boulevard in Tampa Bay.
Judge sentences Cameron Herrin to 24 years in prison
TAMPA – A judge sentenced Cameron Herrin to 24 years in state prison on Thursday night, nearly three years after the young man sped along Bayshore Boulevard and crashed into a mother and daughter, killing both .
Hillsborough Circuit Judge Christopher Nash's decision came at the end of a long day of testimony, which saw Herrin's family and friends take the witness stand to talk about his character, before let a parade of family members of the two victims express their grief and rage at the damage done to their lives.
"It is impossible to be more wrong than what happened in this case," said the judge.
Herrin, 21, looked wide-eyed when the judge announced his fate. Afterwards, as a sheriff's deputy threatened him, his family members started to cry.
When her son called that day in 2018, Cheryl Herrin could hear he was crying, she testified earlier today. He told her he had been in an accident.
"Mom," he said. "I killed someone."
"No, Cameron," she said. " you're wrong. "
But she was on the phone long enough to get to the scene on Bayshore Boulevard. She saw the Ford Mustang, a gift she and her husband gave her son when he graduated two days earlier from Catholic High School in Tampa. She saw it on her hands and knees in the grassy median.
Last year, Herrin pleaded guilty to two counts of homicide at the wheel of the deaths of Jessica Reisinger-Raubenolt and her 1-year-old daughter, Lillia.
"I feel responsible for this accident," Cheryl Herrin told the judge. "If I could, I would walk past Cameron, and accept whatever punishment you might inflict."
Then, in the afternoon, came the family of the victims.
"They can comfort their children," said Pamela Reisinger, Jessica's mom and Lillia's grandmother of the Herrins. "They can comfort them and give them a hug. I go to a closet and sniff a T-shirt. I go to a baby photo and stroke her cheeks to comfort her.
"Do you know what it's like to prepare for the birthday of a loved one who has passed away?" Brian Raubenolt, Jessica's brother-in-law and Lillia's uncle, asked Herrin. "Do you know what it's like to whisper into the ears of a dying toddler, 'I promise I'll always take care of your father?' … You did this to us, Cameron. You killed them.
Herrin, then 18, left that morning – May 23, 2018 – with a friend, John Barrineau, to work out at a local gym. Herrin's older brother, Tristan, climbed into the Mustang's passenger seat. Barrineau, then 17, drove separately in a gold-colored Nissan.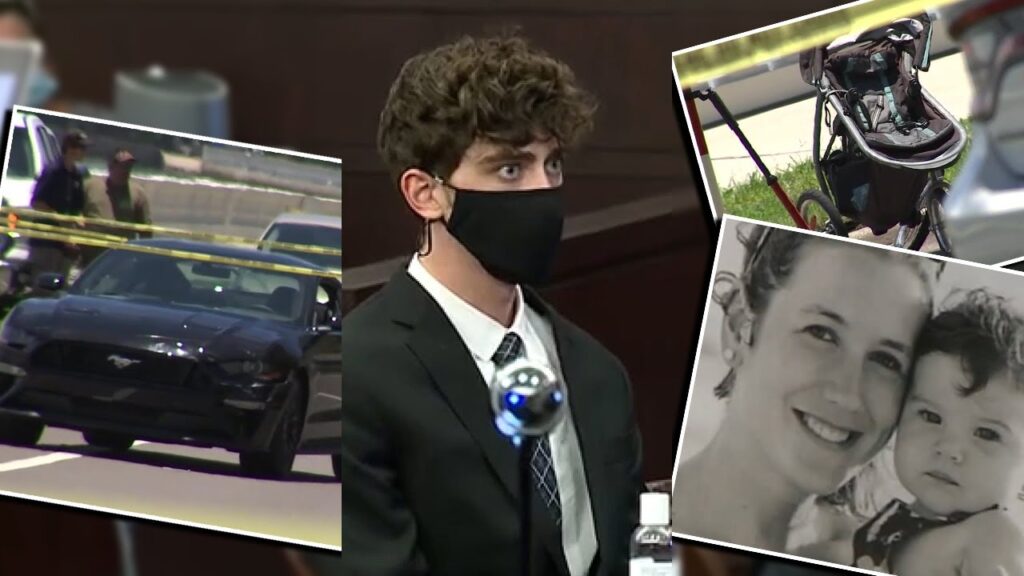 Cars pulled up to a traffic light on Gandy Boulevard, then headed north on Bayshore. Other drivers and spectators would later tell police that the couple appeared to be running. Cars were sometimes parallel to each other when moving between the two lanes.
Reisinger-Raubenolt, 24, who was visiting Tampa from Ohio, was returning from Ballast Point Park that morning along the iconic boulevard to a relative's house. In a stroller, she pushed Lillia. At the intersection of Knights Avenue, she moved to cross the roadway. The cars approached.
The Nissan swerved to avoid the young mother as she exited, a witness said. The Mustang moved to avoid the Nissan and hit the woman and her child.
In court, Assistant State Attorney Aaron Hubbard presented data from the Mustang's navigation system, which recorded several speeding incidents in the days leading up to the crash. It recorded a speed of 162 mph on May 18 along Interstate 75. On May 22, the car reached 84 mph along Bayshore.
On the 23rd, the car exceeded 100 mph moments before the accident. It then decelerated rapidly. A Tampa Police detective said the car was traveling between 30 and 40 mph at the time of impact.
David Raubenolt, widower and father of Lillia, spoke for an hour about the loss he suffered. He remembers driving to the house they were staying that day, seeing the traffic backing up, thinking something terrible had happened. He began to pray for a stranger.